With every manufacturers pushing for 3D technology, 3D capability is almost always integrated into the newest Blu ray players. Samsung is no different.
---
With exception of few models, all of the new Samsung Bluray players offer the 3D technology out of the box. Of course, you will need a compatible 3D television set to really enjoy the 3D features.
The BD-D5500 is an entry-level Blu ray player from Samsung. While it is the cheapest 3D capable Blu ray player from Samsung, the BD-D5500 offers a lot of features found on more expensive Blu ray players. In fact, the only worthwhile feature missing from BD-D5500 is the inclusion of WiFi out of the box. If you want the WiFi capability, you will have to buy an optional WiFi dongle. Otherwise, the performance and features are fairly similar to the more expensive models from Samsung and other manufacturers.
The BD-D5500 is a 3D Blu ray player with the latest features found Profile 2.0 players. It is fully compatible with the latest BD-LIVE contents as well as 3D Blu ray discs. Like most other Blu ray players, it can natively decode Dolby Digital, Dolby Digital Plus, Dolby True HD, DTS HD, and DTS. Like the other latest Blu ray players from Samsung, it supports the Smart Blu ray player with Samsung app. With the Samsung Smart platform, you can access Netflix, Blockbuster, Hulu, YouTube, and Pandora. Also, you can access social network sites like Facebook and Twitter. There are a lot more apps specifically built for Smart platform that you can explore once you set everything up. With Samsung apps, you can download various games as well as news and weather apps. You can download games like Monopoly and various poker games.
The overall design of BD-D5500 is fairly straight forward. While the uneven front fact from the top makes it different from the run of the mill rectangle design, it doesn't make it stand out in terms of the overall design. The tray is located on the left side of the player. The LCD and simple playback function buttons are centrally located. There is a front USB port with a nice cover if you are not using it. The connectivity includes simple 2 channel analog audio output, HDMI, component video, USB 2.0 port, Ethernet port, and optical digital audio output. It does not come with extra HDMI or multichannel analog audio outputs. The included remote control is a pretty nice option. While it's not comparable to more advanced remote controls, it does have nice big buttons for important functions and the buttons are in a nice layout.
With the new Blu-ray players, Samsung has touted the ultra-fast play feature. According to Samsung, movies will load faster than previous Blu ray player. From boot up to playing, Samsung claims the time of 30 seconds or so. In real-world testing, I found that 30 seconds is fairly close on most discs. However, some discs did take longer than 40 seconds. Otherwise, it is pretty nice in terms of loading speed.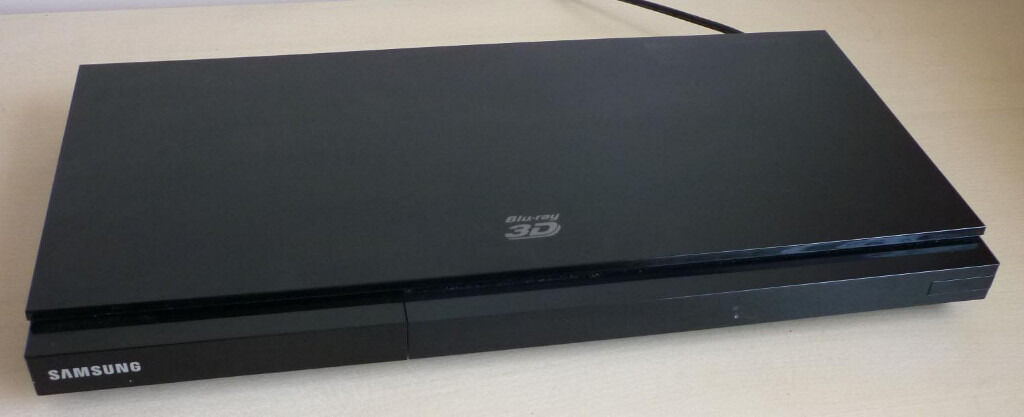 The overall video processing was excellent. Pretty much all the latest Blu ray players will not have any video processing defects seen on first or second generation Blu ray players. Typical first generation video defects like moiré, jagginess, and motion blur were all absent from the video playback. All of these defects were absent from the Blu ray disc as well as DVD playback. The BD-D5500 played media files without too much problem. MKV and Divx formats all played without any problems. However, few MKV files had problem displaying subtitles for some reason. Never the less, the overall video processing was spot on.
For an entry-level 3D Blu ray player, the BD-D5500 packs in a lot of features for a low price. You even have the option to go WiFi if you choose to purchase the optional WiFi dongle. However, stepping up to the next model might be cheaper than buying a WiFi dongle if you really need WiFi. For around $100, this is one of the best low priced Bluray player on the market today.